toooooooo much! people are crazy, man. this is a perfect example of the old adage "truth is stranger than fiction". for reals.
this is gonna be a long ass post, 'cause with a story like this, you gotta do it justice. stick with me, the payoff is worth it.
ok, so where to start?
the cast of characters...
LADY SOVEREIGN-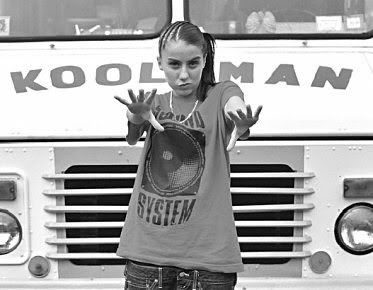 i'm not very good at keeping up with pop culture, so i just found out about this girl when i stumbled on to the "incident"(more later) yesterday...
lady sovereign is a cheeky, unpolished little 21 year old london grime mc, a child of punk rocker parents, standing 5'1", the self proclaimed "biggest midget in the game". through workin the grime scene and recording a couple singles, most notably "the battle",
(couldnt find a song file on the net of this song, but here is a cheesy naruto anime video on you tube to the song if you want to hear it-
"the battle"
)
a girls vs. guys battle song, she got the attention of jay-z, who flew her in for a meeting and signed her to def jam records. in october of 2006, she released her first album "public warning".
she considers herself to be pretty much the exact opposite of the typical female in the business, wears baggy clothes, never had her nails done, doesnt shave her pits, likes heiniken instead of champagne, which she expounds on in one of her first singles "love me or hate me" which recently got a remix done with missy elliot-
anyway, thats her. seems like a good kid. questionable style, yes, but a good kid nonetheless. kinda like your crazy little sister. here are some links to a few more of her videos and an interview-
blahblah
short interview
random
9 to 5
next character-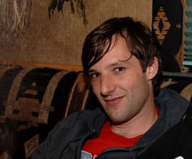 ZACH SLOW
in the spring of 2006
this guy
, a 27 year old San Franciscan animator(
traped in the clauset
) and fan of Lady Sovereign started a website called
"help me get random with lady sovereign"
, in which he asked for people to help him raise $10,000 to take lady sovereign out on an over the top, extravagant date around san francisco after her show here in june.
his ex girlfriend wasnt too happy to hear about this-
anyway, Zachs site got tons of hits, and a good bit of publicity, so despite the threats from his ex, she agreed to the date. IF he could raise the money, and he did!
and thats where \/this guy comes in.
ANDREW BANCROFT-
aka mc JELLY DONUT.
homeboy is a local comedian/actor/mc who participates in battles around the bay as different characters. hes done a cockroach, george bush, santa claus, an old lady, but most notably, a jelly donut. and he slays folks left and right. seriously. a little weak in the flow department for sure, but a funny guy who comes up with some clever rhymes.
heres a link to a longass interview with Jelly D that should answer all your burning questions about the donut, and the man behind the donut-
gelfmagazine.com
and here he is in action-
so ok, thats our cast. ZACH SLOW and LADY SOVEREIGN had their date, accompanied by some people, photographers, friends, one of whom was JELLY DONUT(sans costume). they cruise around the bay in a limo, and a yacht, they drink some champagne, smoke some blunts, you know the drill. full rundown on zachs site. after the date, zach reports that he had a great time, and i guess that could have been that, but oh no.
on october 29 2007, lady sovereign gets interviewed by the san francisco chronicle because of an upcoming show in sf on january 8, and she tells a slightly different story:
Q:Last time you were in San Francisco, some guy raised $10,000 on the Internet to take you out on a date.
A: Well, I reckon he had a rich grandma. The day before it was going to happen, he was 2 grand short and, funny enough, the next day he had all the money raised.
Q: So how was it?
A: Ugh. Don't bring that up. It wasn't what I expected. It was awful.
Q: How awful could it be with a private yacht?
A: But I couldn't bring my people, so it was a bit boring. It felt more like a media event because he brought a photographer and film crew along.
Q: How else could he prove it really happened? Who would you raise money for to take out on a date?
A: Andre 3000 seems like he would be all right.
Q: Good one. Like, he would totally massage your feet.
A: Yes, and kiss my toes.>
link to full interview
she also said this-
"It could have been better. No one's ever spent-- well, apart from record labels-- ten grand on me. So I don't know, it seems a bit odd because we had this massive yacht that he had hired out, and I didn't understand why I couldn't bring on, say, people from the show, my band...because he had photographers on the fucking yacht. And one of his friends."
"It could have been so much better if it was more of a party."
and this-
"him and his friend just reminded me of Beavis and Butthead. Literally, they looked like them as well. But no, they were cool people. I've said some things, and I think he got offended by it, but I'm just being honest."
"I didn't have a great time. It was okay, you know?"
round 1
so ZACH SLOW writes a letter to the editor at the chronicle-
He wrote
"...The first thing she says is: "Well, I reckon he had a rich grandma. The day before it was going to happen, he was 2 grand short and, funny enough, the next day he had all the money raised."
This made me laugh because, well, my grandma is broke. Not only that, but you'd think a famous rapper would be able to come up with something more clever than to call out someone's grandma. When did rappers start dissing the elderly?
The reality is the site got more than 3.1 million hits in one month. Nobody but her fans put in money for this stunt. Similar to an eBay auction, tons of people watch, and then people go crazy bidding at the last second. That's what happened here, and it's almost insulting to the people who gave us money for her to say that.
Here's my second favorite quote from her: "Ugh. Don't bring that up. It wasn't what I expected. It was awful."
OK, this is total bull. She was flipping out that she was on a private yacht all night long. And not only did I witness this, but the multiple people on the boat did as well. Plus, let's be real: She was on a private yacht and had $10,000 spent on her in a matter of hours. Dude, Donald Trump would have fun with me in those circumstances!
Then she says: "But I couldn't bring my people, so it was a bit boring. It felt more like a media event because he brought a photographer and film crew along."
First off, put yourself in my shoes for a second. I've just spent a month working my butt off to go party with a famous rapper. Why would I want a photographer and cameraman in my face during the few measly hours I have with her? Now put yourself in her shoes. You're an up-and-coming rapper who disses fans' grandparents. You're about to release an album and would like to get lots of publicity. So you bring a film crew and a cameraman to shoot the whole thing. It was her management that insisted a crew be there to get some publicity shots -- I was the one fighting that.
In addition to the publicity people they insisted on having, Lady Sovereign also brought a girlfriend and her manager. I don't remember ever saying, "Hey, it's always been a dream of mine to go out with a famous rapper -- and her people. Everyone donate now, so I can take out a rapper and her people!"
So yeah, there is my side. Obviously, she has a lot more power than me, so it's pointless for me to even really care what she says. It's just nice to get the real story out -- and to defend my grandma."
OKAY! its gettin good, right? so JELLY DONUT decides to step in and defend his mans honor-(from his blog)
"...jelly D has beef with UK rising rap star Lady Sovereign. My man Zach Slow raised $10,000 to take her on a crazy date (yacht, champagne, blunts... the whole dealy). Well it actually worked and yours truly, Jelly D, tagged along. She was having a blast until half-way through the night when lil' SOV got too wasted and all pouty. It was as if a clown showed up to her birthday when she really wanted a pony. We continued to party with her peeps and make the most of it. But post date, the ornery elf started saying we were creepy, dissing Z's grandma and making up lame claims about the night to the likes of Spin Magazine and other large media sources that rising stars mingle with. We were like, "Bwahhh?" Zach's stunt had just earned her a TON of publicity and we just wanted to have a crazy night. I guess we hadn't counted on her being a cranky twat."
"Anyway, the Jelly D ain't one to hate, but once she brought the elderly into it we had to put the dough in the fryer. We decided to take the beef to the next level the way most hip-hoppers do: a battle. It's not the easiest thing in the world to arrange a rap battle between a pastry and Jay Z's newest nuisance, so we decided to go guerilla. Yes, a hostile jelly flood at her January 8th show at Mezzanine in San Francisco."
yes! chaos! mwahahahaha. next stop, monday january 8th 2007. lady sovereigns show, a.k.a. "the incident"
the whole story
of the nights shenanagins, from jelly donuts perspective.
"....And if you're reading this SOB, the beef is on the grill. You spat on the wrong pastry. If you ever get the eggs enough to have that battle, I'm waiting. Otherwise, you never know where the jelly might bubble up...
4 Rizzle, Jelly D"
no word yet on what lady sovereign has to say, but stay tuned, i'm sure there will be a response. i promise to keep this post updated as the story unfolds. signing off.
UPDATE- LADY SOVEREIGN had this to say to
urb.com
URB: Thoughts on last night's donut incident…
Lady Sov: "Actually, I think it's just a bit pathetic, isn't it? It's really desperate, the fact that they paid to get in and then tried to get people to boycott my show. There's a time and a place."
Could you tell what was going on from the stage?
"No, I couldn't hear what anyone was saying, I just seen all these donut flyers flying around and I'm just like, 'Oh, you cunt.' I didn't know what was going on, but the little donut was getin' a bit aggressive."
Did you spit?
"I gobbed right in his left eye. The biggest amount of whatever was in my throat went right in his eye."
Do you expect to see him next time you're in San Fran?
"I don't care to, I don't even want to glorify the little thing, if you know what I mean. He's a comedian, so obviously he's going to make himself look like a riot here."