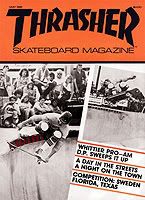 i was always a shitty skater. probably because of the fact that every time i got on a board i managed to lose a healthy portion of my skin, and therefore never managed to spend enough time on a board, before i got injured, to be able to learn anything. thats alright though, i am and always will be a bike guy anyway...
however, i gots the mad respect for the thrashers of the world, and so i was thrilled to find out that thrasher magazine, to celebrate their 25th anniversary, has posted the first 12 issues, from 1981, viewable online as jpg slideshows, or downloadable pdfs.
here-
thrashermagazine.com
amazing images, tube socks aplenty, and vans ads galore.